"And there shall come forth a rod out of the stem of Jesse, and a Branch shall grow out of his roots…" ~ Isaiah 11:1  
Hello, Mama readers!
As we head into the 2017 Christmas season, I'll be re-posting my Jesse Tree devotionals.
Have you caught the Jesse Tree bug yet? This is our family's third year using this tradition as a tool to keep Christ in Christmas and we are all really looking forward to it! I have been able to fine tune it this year and will be sharing some tips with you as we go.
As I mentioned last year, our reason for doing this was simple and the decision, easy. Shane and I had been struggling with just how much we want to focus on this time-honored tradition of the Christmas tree. Did our kids treasure the nativity scene as much as they did the tree? Were we perhaps placing it above the true meaning of Christmas? We didn't like the thought of that.
One thing that adoptive and foster parents will relate to, is that we typically don't have full influence over our children from birth. In some cases, Jesus is not taught at all and Christmas is all about Santa and reindeer. And the tree.
As a family, we kicked Santa to the curb, along with all of his reindeer, a long time ago. DISCLAIMER: We DO NOT judge friends and family who celebrate that stuff. No, we do not worry about your spiritual condition and pray for you to "see the light." Seriously. It's just that as a family, with SO MUCH worldly influence already poured into our sweet children before we ever met them, we are just dialing that way back. WAY. BACK.
But the tree? I just felt that there was a way we could totally redeem that tradition so that our children could enjoy it while still completely focusing on Jesus and the reason He came for us, by such humble means, no less.
And then I found the Jesse Tree!
If you and your family are ready to share in this beautiful journey with us this Christmas, just follow along on my posts and you should be able to get a pretty good idea of what to do!
I'll be posting a week's worth of devotionals at a time, three days ahead, to give you a head start on prepping for activities and making ornaments, if you want to do the whole shebang.
The two books we are using this year are:
The Jesus Storybook Bible, by Sally Lloyd-Jones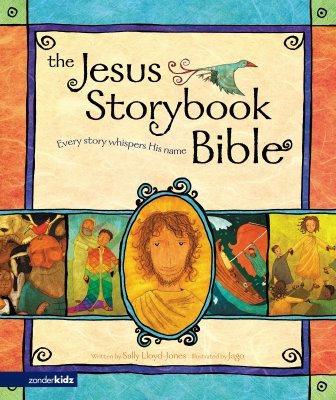 The Jesse Tree, by Geraldine McCaughrean
In addition, I found my list of "things to keep in mind" that I made at the end of last year, so here it is!
1. Split the activity into two parts – Morning and Evening. In the morning, pull the ornament, hang it on the tree and read out of the story book or read the Scripture. In the evening, do the song, activity and read what wasn't read in the morning.
2. Sing more songs / Christmas carols. I was so intent on finding songs that fit the theme that we missed our usual singing by the light of the tree time.
3. Find meaningful activities to do less often. The activities overwhelmed me a bit. Some seemed too grandiose to do within a day, while others didn't seem to fit or were less meaningful. And honestly, I would rather do more difficult stuff less frequently if it has meaning. Our Passover meal and Lights Out nights were incredibly special and the kids got a lot out of the parallels. I'd also like to find more crafts to do for next year.
4. Have the kids make their own Jesse Tree ornaments. Our family ornaments that Shane and I made are special, but I will want my kids to have their own for years to come.
5. Replace ornaments instead of adding. The tree got really, really full and the kiddos didn't know how/where to place the ornaments. Had I told them to simply replace one of the plain colored balls I had already placed, it would have made for a less crazy tree. 
6. When in doubt and time runs out, Scripture is the most important. There were days that we were rushed for time and were trying to cram it all in. In the end, the Bible says it best.
I pray that you and your family are richly blessed by this wonderful tradition. 
Blessings and much love, 
Mama