"And there shall come forth a rod out of the stem of Jesse, and a Branch shall grow out of his roots…" ~ Isaiah 11:1  
Have you ever heard of a Jesse Tree? I hadn't before last year. I can't even remember where I heard about it, but the more I read, the more fascinated I became.
Our family has always had a Christmas tree. I love everything about it. The hunt for that perfect one. Placing the lights just so. Lovingly placing each special ornaments, some heirlooms, some new. Watching a Christmas movie while stringing cranberries and popcorn to hang on it. Some years we have themes. Other years are just a hodge podge. And, oh, the wonderful smell it brings into the house! Although I must admit that my allergies KILL ME every year…artificial next year? *sniff*  After all of this, comes my favorite part of all — turning all of the living room lights off, save the tree, the village (if we put it up…this year we're not) and the nativity lights, and singing songs together as a part of our evening devotions.
But over the last couple of years Shane and I have been struggling with just how much we want to focus on this time-honored tradition. Do our kids treasure the nativity scene as much as they do the tree? Are we perhaps placing it above the true meaning of Christmas? We didn't like the thought of that.
One thing that adoptive and foster parents will relate to, is that we typically don't have full influence over our children from birth. In some cases, Jesus is not taught at all and Christmas is all about Santa and reindeer. And the tree.
As a family, we kicked Santa to the curb, along with all of his reindeer (or caribou, as Shane likes to refer to them, tongue in cheek) a long time ago. DISCLAIMER: We DO NOT judge friends and family who celebrate that stuff. No, we do not worry about your spiritual condition and pray for you to "see the light." Seriously. It's just that as a family, with SO MUCH worldly influence already poured into our sweet children before we ever met them, we are just dialing that way back. WAY. BACK.
But the tree? I just felt that there was a way we could totally redeem that tradition so that our children could enjoy it while still completely focusing on Jesus and the reason He came for us, by such humble means, no less.
And then I found the Jesse Tree! There are different versions, but essentially, all of them have an ornament and Scripture and/or devotion for every day (some beginning the day after Thanksgiving, others starting on December 1) that show how the Old Testament points to the promise of a Savior, and more specifically, Jesus.
As I mentioned, I have come across several versions. Some have crossover with symbolism (i.e. a dove representing Noah on one list and John the Baptist on another…you can see where it would fit either), some focus only on people of the Old Testament, others more on events. Some only have male characters on the list while others have Ruth, Rahab and Esther. So I looked at several lists and haven't settled on one for sure yet.
Last year we followed The Jesus Storybook Bible, by Sally Lloyd-Jones and loved it. However, it wasn't intended for the Jesse Tree and continues several stories after Jesus' birth. Which is great. And I loved that Leah is honored, as well as Daniel.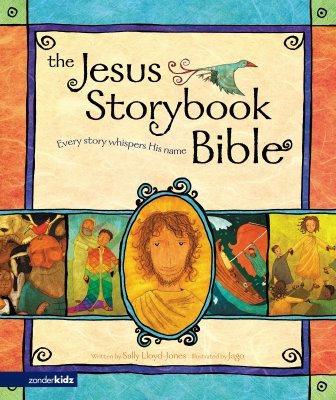 I was really excited about using The Jesus Storybook Bible again, but at the last minute…like within the last two or three weeks, it disappeared into thin air. Seriously?! NOW what was I going to do?!
Well, in my search at the library, I found, not only said book, but one simply called, The Jesse Tree, by Geraldine McCaughrean. I haven't had a chance to read it, but plan on following this one as well to see if I like it.
However, this year, I'm super excited to follow along with Unwrapping the Greatest Gift, but Ann Voscamp this year. I am already finding things that I wish were there, (like Leah and Daniel), but others are included in this, like Jonah and Zechariah & Elizabeth.
So basically, my kiddos and you are my guinea pigs. Aren't you thrilled?! Next year you may see that I have morphed a calendar of my own. But for this year we're following a "plan."
Now, if the book is readily available, why check on my blog? First, although activities are suggested in the Unwrapping the Greatest Gift, we like to add songs for the kids to sing, so I will have a song suggestion for each one. In addition, you can purchase ornaments for the Jesse Tree, but honestly, they're spendy and our family couldn't afford them this year. So I'll show you the ornaments I have made and give suggestions along the way for you to make your own.
We have decided to start with the introduction tonight, November 30, and the ornaments and stories will officially start tomorrow, December 1.
Thankfully, we already had a HUGE advent calendar that I made out of a clear shoe organizer and they're super easy to make! Here's where I found how to make it. In each slot I put the ornament for the day and will likely also put the Scriptures on 3×5 cards for the kids to look up. I also put a 3×5 car with an activity on it for them to do, unrelated to the Jesse Tree, (i.e., We're watching "A Charlie Brown Christmas" tonight!)
Speaking of ornaments, last year I decided to go through my many, many ornaments to try to find ornaments that were already special to our family that would fit the symbols needed. For the missing days, I am decorating plain glass ball ornaments to fill in the gaps. This year I took the time to paint nice "set" of ornaments to use for years to come. This has been a learning curve for me, but hopefully what I learn can be useful to those of you who wish to start this tradition for your family.
Regarding the Scripture readings: Last year when I was searching for a good plan to follow, many of the readings  felt too long for our kiddos' attention spans and so I tried to find the stories in our Children's Bible whenever I could. One HUGE benefit to Ann Voscam's versin is that the Scripture reading is concise, but an integral part, nonetheless. I do encourage you to have children actually find the Scripture in the Bible. It's good practice and helps their brains connect that what we are reading is God's Word and not just a storybook.
I am so excited to share this experience with you, my friends!
More to come!
Blessings and much love, 
Mama